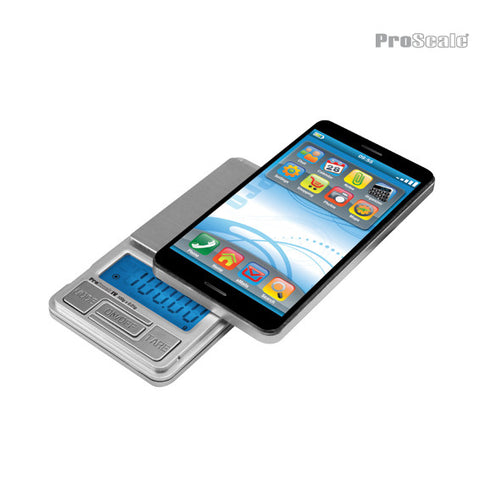 ProScale
PROTOUCH 4 100
- 100g x 0.01g
g, oz, gn, ct, ozt, dwt
Improved Protouch Mobile Phone Inspired Scale.
The ProTouch 4 series of digital pocket size scales from ProScale have been designed to look like a modern touch-screen phone. Two weight capacities to choose from. The 100-gram that is precise up to 0.01g, or the 650-gram, which is precise to 0.1g. Both models feature a removable cover that provides extra versatility, since it doubles as an expansion tray. And its extreme durability allows for greater durability. Simply slip the ProScale Protouch digital scale into your pocket and be on your way. Other noteworthy features include an easy to read backlit screen, stainless steel weighing platform, six weighing modes, and a 5-year manufacturers warranty. All ProTouch scales come equipped with batteries so they're ready to weigh right out of the box. 
• Sleek Modern Design
• Large Button layout
• Blue Backlit Display
• Cover Doubles as a Larger Tray
100g x 0.01g
MODES:g,oz,gn,ct,ozt,dwt
Calibration
1) Place scale on a Flat, Very stable surface and power it OFF
2) Press and hold both the MODE  until the AD value ( a random number) appears on display.
3) Press the Mode again, the display will show "ZERO" then "100.0"
4)Gently place a 100g weight one the scale
5)Press the (I) key, the display will show PASS and then return to normal weighing mode.
Calibration is complete.
$41.70
Product Features & Specifications
Capacity
100g x 0.01g
Readability
One hundredth (0.01g)
Units
Gram, Ounce, Grains, Carats, Troy Ounces, Pennyweight
Calibration
Yes
Power Source
2 x CR-2032
Weighing Platform Size
2.5'' x 2''
Scale Size
0.5'' x 4.5'' x 2.5''
Display
Blue Backlit LCD
Warranty
5-year manufacturers warranty