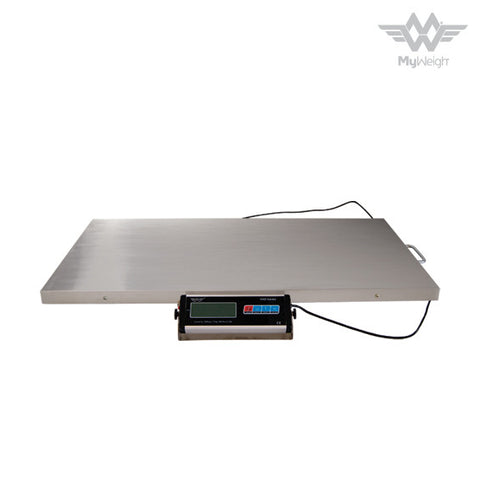 My Weigh
VHD SERIES
- 300kg x 0.1kg / 660lb x 0.1lb
lb , kg
Heavy Duty scale for livestock, veterinary clinics, animal hospitals & much more
The amazingly durable My Weigh VHD scale is made for heavy-duty weighing: perfect for animals, livestock, farm, Veterinary Clinics, Animal Hospitals, heavy industrial use & much, much more! The extra-large Stainless-Steel Weighing-Platform is 42″ x 22″ x 1.5″, making it large enough for just about any veterinary job & warehouse and the included cast-rollers & handle make this scale easily portable. Its low-profile also makes weighing animals easy. The included removable heavy-duty non-slip Mat covers the entire weighing surface & helps prevent accidental slips, trips & falls. Four adjustable footpads underneath the scale make working on uneven surfaces effective with adjustment.
What stands out from this scale over other scales is the maximum capacity: 660lbs x 0.2lb capacity/readability. The motion-sensing technology can accurately weigh constantly moving animals! Many scales in this class are offered between 500lb – 600lb capacity. This extra bit makes this scale one to consider.
Powered by an included AC Adaptor, this scale's Backlit LCD Display is 1.5″ large & is easily one of the easiest scales to read from (and one of the largest displays in its class). An extra-long 6′ Cord allows the Controls/Display to be either wall-mounted (comes with wall-mounting hardware for easy installation), or it can also be set on a table or flat surface for easy-reading & control. Four button control includes features such as Zero, Hold, Tare & Unit makes this scale easy-to-use & operate. An RS-232 port & included computer software allows the VHD scale to be either connected to a computer or used as a stand-alone scale.
• Removable Heavy-Duty Non-Slip Map
• Cast Rollers & Handle for easy portability/Adjustable FootPads
• Large LCD Display/Controls & 6" Cord for easy mounting/positioning 
Calibration
Press and hold the ZERO key and power the scale on. ( Do not release ZERO key)
Press the UNIT key three times display should read SET (You can now release all keys)
Press the ZERO key unit the displays reads CAL and then UNIT to enter the mode to change calibration weight.
User can now press the HOLD key to move the digit to the right and TARE will increase the digit.
One done setting whatever weight decided press ZERO and the scale should read CAL
**Do not turn the scale off as you will now be jumping right into calibration (Have calibration weight ready)**
Press TARE key and the scale should read a random number (AD value)
Press TARE key again and the scale should show the programmed weight for calibration
Place the weight on the tray and wait 5 seconds for the weight to stabalize
Press the TARE key and the screen should flash and go to another random number
Calibration is complete
The scale can now be turned off and then turned back on and proceed with weighing
$612.00
Product Features & Specifications
Capacity
300kg x 0.1kg / 660lb x 0.1lb
Readability
0.1kg /. 0.2lb
Units
Pounds , kilograms
Calibration
YES
Power Source
Adapter Included - Rechargeable Batteries
Weighing Platform Size
36″ x 22 x 2″
Scale Size
0
Display
Backlit LCD
Warranty
30-year manufacturers warranty