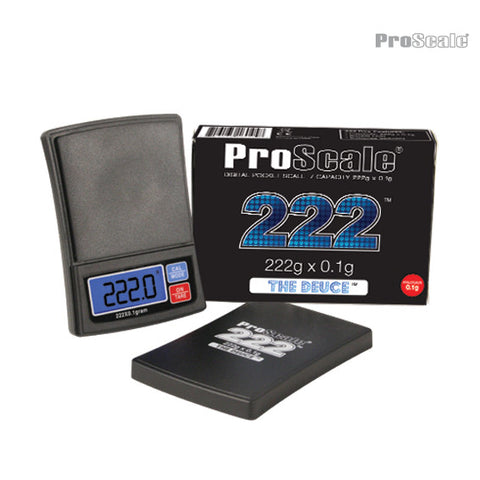 ProScale
222DEUCE
- 222g x 0.1g
g, oz, dwt, gn
Cool & Fun pocket scale that's guaranteed to be one of your top sellers!
ProScale 222 Deuce Digital Scale with 222g Capacity. The ProScale 222 "Deuce" digital pocket scale is small, compact, and fun! The cover doubles as an expansion tray, and the large backlit LCD allows for easy and accurate readings. ProScale only produces well-manufactured digital scales and stands behind their product for five years! 

Available in BLACK only.
• Backlit LCD Display
• Cover doubles as expansion tray
• LOW COST - but well designed & well built
$13.60
Product Features & Specifications
Capacity
222g x 0.1g
Readability
One hundredth (0.1g)
Units
Gram, Ounce, Grains, Pennyweight
Calibration
YES
Power Source
CR-2032
Weighing Platform Size
2'' x 2''
Scale Size
0.75'' x 3.5'' x 2.5''
Display
Blue Backlit LCD
Warranty
5-year manufacturers warranty