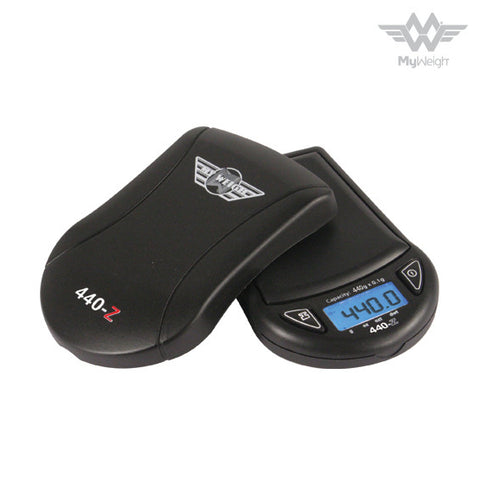 My Weigh
440Z
- 440g x 0.1g
g, oz, 1/8 oz , 1/4 oz
With years of proven sales, the Z series is a sure-stock item.
The My Weigh 440-Z digital mini scales pack huge performance in a small package. The design is truly unique, but form follows function. Notice the oversized easy to press rubber keys. The 440-Z reads in Grams, Ounces, Troy Ounces and Pennyweight. It has a large 400/440gram capacity and reads in precise 0.1gram increments. The scale offers digital auto calibration, temperature compensation and a unique cover that doubles as a large expansion tray/cup. Some models feature a bright LED backlight. This quality My Weigh product is backed by a full Lifetime/30 year international warranty.
The 440-Z offers Auto-Calibration, Temperature-Compensation, and a Protective Cover that doubles as an Expansion-Tray. As well, the 4PPS (Four-Point Protection System) which helps protect against accidental overload & Dual-Chip Technology for accuracy & performance; as well, it's constructed of an Advanced-Polymer Material that prevents chipping and scratching & has two-key simple operation.
• Patented form-fitting design
• Oversized easy to press rubber keys
• Removable cover that doubles as a weighing tray
• Large soft-touch rubber keys
$17.50
Product Features & Specifications
Capacity
440g x 0.1g
Readability
(0.1g)
Units
Gram, Ounce, 1/8 ounce , 1/4 ounce
Calibration
YES
Power Source
AAA Batteries
Weighing Platform Size
4.25" x 2.7"
Scale Size
2.5'' x 4'' x 1.75''
Display
Blue Backlit LCD
Warranty
30-year manufacturers warranty