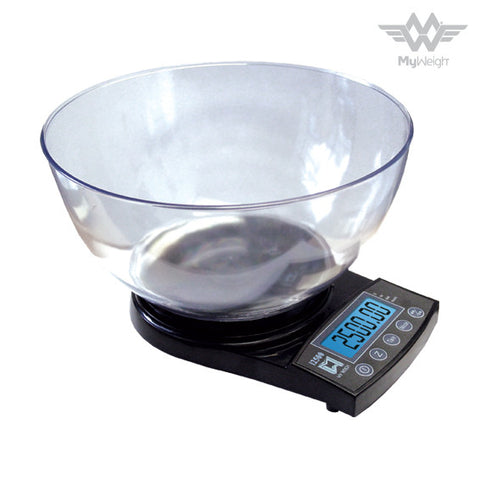 ProScale
i2500
- 222g x 0.1g
g, oz, dwt, gn
Professional Bowl scale with true-division sensors and many advanced features. 
The i2500 is truly the ultimate in kitchen, small office and household scales. We even have an optional Bird-T-Stand for weighing birds on these scales.
With a huge maximum capacity of up to 5.5 pounds / 2.5 kilograms and precise readings as accurate at 0.001 pound / 0.5 gram, these scales are sure to fit any weighing needs.
• Full Memory Features allow cumulative weighing up to 50 items
• Advanced Counting Feature
• Extra Large Acrylic bowl included
$40.90
Product Features & Specifications
Capacity
222g x 0.1g
Readability
One hundredth (0.1g)
Units
Gram, Ounce, Grains, Pennyweight
Calibration
YES
Power Source
CR-2032
Weighing Platform Size
4.25" x 2.7"
Scale Size
0
Display
Blue Backlit LCD
Warranty
5-year manufacturers warranty