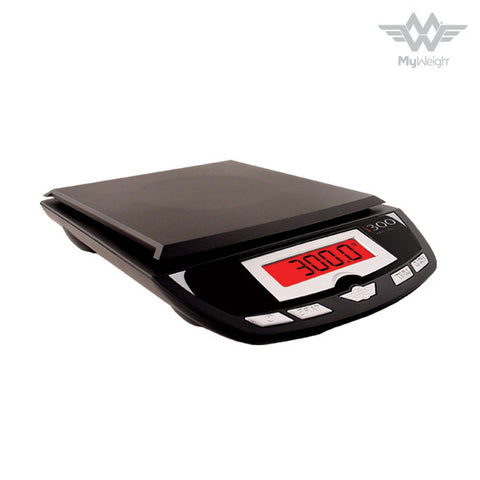 My Weigh
i300
- 300g x 0.1g
Grams , Ounces , Penny Weight, Carats
Adjustable Angle Large Backlit Display, Programmable Auto off times, Programmable Audible Beep Function, and much much more!
The i300 is easy to clean and easy to use. Double-stopper protection, strong steel reinforced ABS plastic, and modular construction make these scales extremely durable. These scales read in Grams, Ounces, Pennyweight & Carats. This makes them perfect for Home, Office, Kitchen and thousands of other uses. They are extremely durable and versatile. The Genuine My Weigh i300 scales have special features such as adjustable angle backlit display, last unit memory, HOLD feature, adjustable audible beep function, digital auto calibration and more!
• Double Stopper protection
• Strong Steel reinforced ABS plastic
• Modular construction
• Last unit memory, HOLD feature, adjustable audible beep function, adjustable auto-off and digital auto calibration
Calibration
This scale was professionally factory calibrated before shipment. It does NOT need to be re-calibrated before use and will not usually require calibration during its lifetime. However some advanced users who seek optimum accuracy may wish to calibrate the scale periodically to maintain perfect accuracy. incorrect calibration can occur if you do not follow the steps exactly. You will need a 200g weight to calibrate the scale.
1) Turn the scale off and place it on a FLAT, Very stable surface.
2) Press and hold (UNIT) and (0) to turn on the scale, wait for the display to show " CALE"
3)Place a 200g weight on the tray, wait 3 seconds then press (TARE). Calibration is complete.
Note: If after calibration your scale does not read accurately, this indicates calibration error and the calibration process should be repeated more slowly.
$57.30
Product Features & Specifications
Capacity
300g x 0.1g
Readability
300g x 0.1g
Units
Gram, Ounce, Grains, Pennyweight
Calibration
YES
Power Source
AA Batteries - Or Adapter optional
Weighing Platform Size
6'' square
Scale Size
1.5'' x 8'' x 6.25''
Display
RED Backlit LCD
Warranty
30-year manufacturers warranty