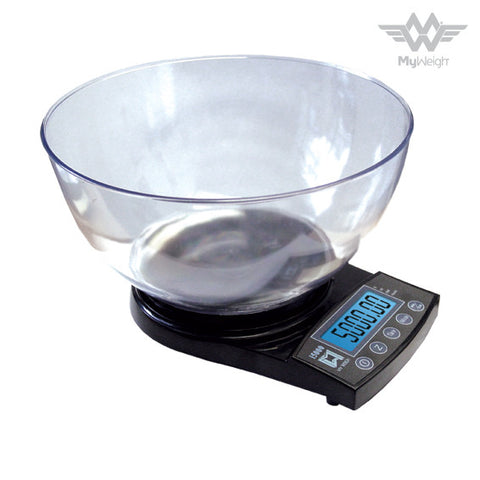 ProScale
i5000
- 5000 x 1g
g, oz, dwt, gn
Professional Bowl scale with true-division sensors and many advanced features. 
The i5000 Series are truly the ultimate in kitchen, small office and household scales. We even have an optional Bird-T-Stand for weighing birds on these scales. With a huge maximum capacity of up to 11 pounds / 5 kilograms and precise readings as accurate at 0.002 pound / 1 gram, these scales are sure to fit any weighing need!
• Full Memory Features allow cumulative weighing up to 50 items
• Advanced Counting Feature
• Extra Large Acrylic bowl included
Calibration
Re-calibration is not necessary. It is very unlikely that you will ever have to re-calibrate this scale. Some processional users may want to re-calibrate their scale to keep and maintain exact accuracy. This is because of weight of a mass in one part of the world is not a necessarily the same in another part. Also, with time and use, small mechanical cam occur. In order to calibrate this scale you will need a 5000g (5kg) weight of combination of weights.
Before entering calibration mode, turn the scale on and let it warm up for about one minute. then turn it off and proceed to the next step below:
The scale should be OFF . Press and hold the (ZERO) key. After 3 seconds release (ZERO) key. The display will show a random series of numbers.
Calibration by weight
Wait 3 seconds the press (ZERO). this display will show "2Ero" and then the display will show flash 5000. Place a 5000g weight on the tray and then press (ZERO), the display will show " CAL" then after 2 seconds, the display will show " PASS" and then return to weighing mode. Now calibration is complete. Turn the scale OFF, then turn it back ON and test some  weight readings. If they are inaccurate perform calibration again.
$48.20
Product Features & Specifications
Capacity
5000 x 1g
Readability
One hundredth (0.1g)
Units
Gram, Ounce, Grains, Pennyweight
Calibration
YES
Power Source
CR-2032
Weighing Platform Size
4.25" x 2.7"
Scale Size
0
Display
Blue Backlit LCD
Warranty
5-year manufacturers warranty