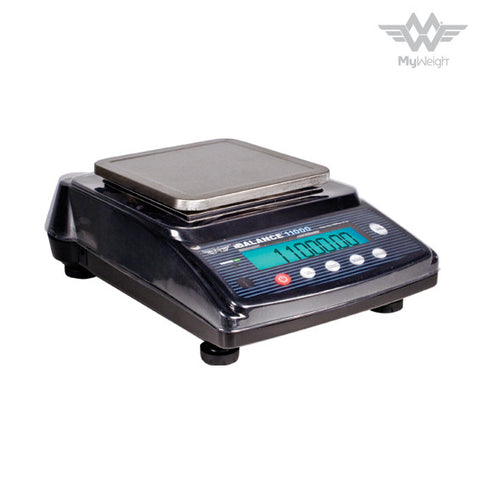 My Weigh
iBALANCE 11000
- 11000g x 0.1g
g, lb, kgs, oz, ozt, ct, dwt, gn + more
Extreme high capacity precision scale with extra large platform
The i11000 is a professional compact scale with a backlight and extra large LCD screen. The backlight makes it easy to read from a distance. Each scale now comes with a large Stainless Steel tray, parts counting features and 6AA batteries.
Scale professionals know that "multiplied" sensors simply won't cut it when accuracy and durability count. These commercial grade sensors make this scale incredibly accurate and durable. The i series also has an integrated thermistor to compensate for temperature changes and auto zero tracking to ensure stability.
• 11kg / 24lb Capacity with 0.1g readability
• Built-in rechargeable battery
• Adjustable feet and level bubble
• Very large 8.5" by 10.5" platform
Calibration
1) First remove all objects from weighing tray. Press and hold the CAL key, calibration will begin.
2)The scale will show the required weight for calibration. Place the required weight as indicated on the screen on the center
3)Once the required weight is placed on the scale it will show lines across the screen ----------, then it will show " PASS". then it will show the required weight once more.
4) Then remove the weight and the screen will show----- then set back to zero. Calibration is complete.
$402.40
Product Features & Specifications
Capacity
11000g x 0.1g
Readability
(0.1g)
Units
Grams, Pounds, Kilograms, Ounces, Troy Ounces, Carats, Penny Weight, Grains + More
Calibration
YES
Power Source
Rechargeable Batteries - Adapter Included
Weighing Platform Size
6'' square
Scale Size
4'' x 11'' x 8''
Display
Blue Backlit LCD
Warranty
5-year manufacturers warranty