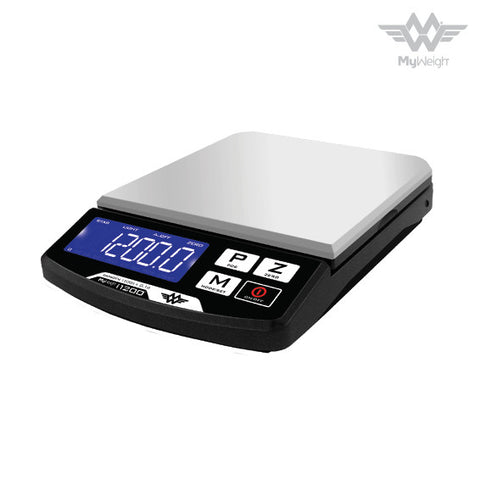 My Weigh
iBALANCE 1200
- 1200g x 0.1g
g, oz, lb, ozt, dwt, ct, gn, PCS
The Industry Benchmark table top scale. Used by tens of thousands of jewelers worldwide. 
The i1200 is a professional compact scale with a backlight and extra large LCD screen. The backlight makes it easy to read from a distance. Each scale now comes with a large Stainless Steel tray, parts counting features and 6AA batteries.
Scale professionals know that "multiplied" sensors simply won't cut it when accuracy and durability count. The i1200 uses a whopping 12000 division load cell. These commercial grade sensors make this scale incredibly accurate and durable. The i series also has an integrated thermistor to compensate for temperature changes and auto zero tracking to ensure stability.
• 9 Years of proven quality & accuracy
• Extra Large Backlit LCD screen
• Large Stainless Steel Tray
• Advanced parts counting feature
$104.40
Product Features & Specifications
Capacity
1200g x 0.1g
Readability
(0.1g)
Units
Gram, Ounce, Pound, Troy Ounces, Penny Weight, Carats, Grains
Calibration
YES
Power Source
AA Batteries- Adapter Included
Weighing Platform Size
5.75'' x 5.75''
Scale Size
1.5'' x 5.5'' x 6''
Display
Blue Backlit LCD
Warranty
30-year manufacturers warranty