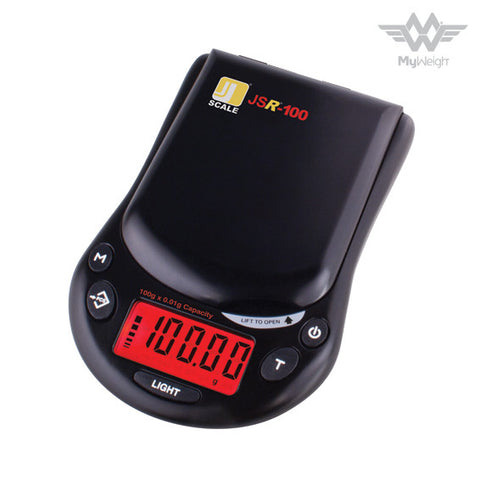 Jennings
JSR 100
- 100g x 0.01g
g, oz, ozt, dwt, ct, gn, t, mgX
Special Edition Updated JS Series.
The Jennings JSR-100 offers all the features of a full sized digital scale in a pocked sized design. Multiple weighing modes, Tare, and a durable flip down protective cover are a few. The flip down cover is removable and can be used as an expansion tray. It also includes a spill catching ring for weighing small loose items. Unlike similar digital pocket scales, the JSR-100 will not hurt your wallet. Simple to use, easy to read, and extremely accurate, the JSR-100 from Jennings is a wonderful scale offered for an affordable price. 
• Improved Ergonomic Design
• Innovative Spill-Preventing & Catching System
• Higher Definition XL LCD Display with WeighMeter
• Advanced Hyper-overload Protection 
100g x 0.01g
MODES:g,oz,ozt,dwt,ct,gn,
Calibration- JSR 100g requires 100g weight to calibrate
1) Place the scale on a flat, stable surface and turn it ON unit the LCD displays "0.0" or "0.00"
2)Press and hold the (M) key for 5 seconds unit the displays shows "CAL"- then release key
3)Press the (M) key again, the display will flash "100.00" or ("500.0g")
4) Gently place the weight(s) on the scale and wait 3 seconds. The display will show " PASS"
5)The scale goes back to weighing mode. Calibration is complete. Remove the weight and turn the scale off.
$23.00
Product Features & Specifications
Capacity
100g x 0.01g
Readability
One hundredth (0.01g)
Units
Grams, Ounces, Pennyweight, Carats, Troy Ounces, or Grains
Calibration
digital auto-calibration
Power Source
Batteries Included
Weighing Platform Size
3'' x 2.5''
Scale Size
1'' x 5'' x 3.5''
Display
Higher Definition XL LCD Display with WeighMeter
Warranty
20 Year Replacement Warranty-CE