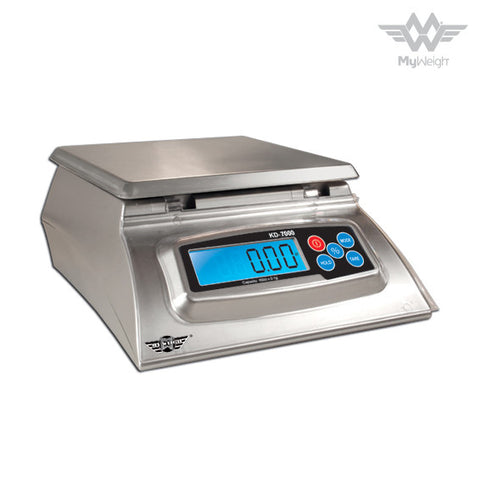 My Weigh
KD7000
- 7000g x 1g
g.lb, oz, :oz, kg
This is our top-selling Kitchen scale. 
The My Weigh KD-7000 Digital Scale is the standard by which all other kitchen and office scales will now be judged. There is simply no better mid-sized scale for your kitchen, office, or home! The KD 7000 is both easy to clean and easy to use. Double-stopper protection, a strong reinforced & removable Stainless Steel platform, and modular construction on a scale body made of strong reinforced ABS plastic make this scale extremely durable.
This scale includes a removable clear LCD cover that protects the buttons and LCD from damage (great for messy recipes, soapmaking or candlemaking), and secondary removable soft clear faceplate covers. With a large 7 kg (15.4lb) capacity and precise 1 gram (0.1oz) readings, this scale is an incredible value.
• Large Brushed 304 Stainless steel Tray
• Removable Protective LCD/Keypad Shield Additional included soft LCD/Keypad covers
• Programmable auto-off, Adjustable beep function & backlight 
• Enhanced durability and spill protection
Adapters sold separately through this link:
http://canadianweigh.com/products/adaptors
$71.20
Product Features & Specifications
Capacity
7000g x 1g
Readability
(1g)
Units
Gram, Pounds, Ounces, Kilograms
Calibration
YES
Power Source
Adapter Optional- AA Batteries Please advise adapter is sold separately and can be found on scale accessories page
Weighing Platform Size
6.5'' x 6.5''
Scale Size
7.5'' x 9'' x 4''
Display
Blue Backlit LCD
Warranty
30-year manufacturers warranty