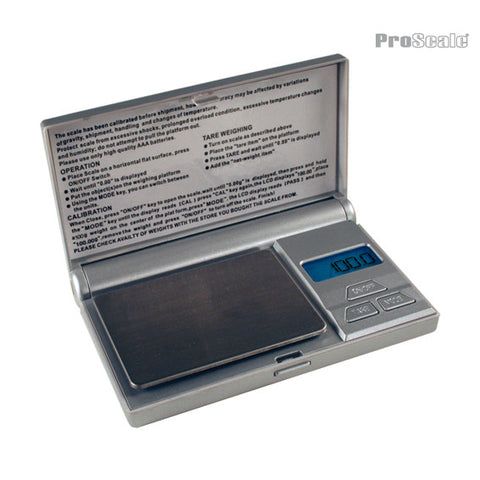 ProScale
LC 100
- 100g x 0.01g
g, oz, ct, gn
Made of high quality, durable plastic, the ProScale LC and LCS Series are built to last. With the LC series, the weighing platform cover slides off easily when it's time to use it and slides snuggly back into place to protect the platform when not in use. The slide cover can also double as a weighing tray. The LCS has a hindged cover that opens up and closes shut. 
The LCS Series weighs in Grams, Carats, Ounces and Grains. The LC-50 and LC-300 offers four weighing modes (Grams, Ounces, Troy Ounces, Pennyweight), On/Off, Mode, and Tare keys, and a Light button to turn off the LCD backlight when not needed. The ProScale LC is a very practical scale for a very affordable price.
• Stainless steel weighing tray
• Unique 3 button pyramid shaped keys
• Fully hinged top cover
• Did we mention its low cost?
$24.70
Product Features & Specifications
Capacity
100g x 0.01g
Readability
(0.01g)
Units
Grams, Ounces, Carats
Calibration
YES
Power Source
AAA batteries
Weighing Platform Size
4.25" x 2.7"
Scale Size
0
Display
Blue Backlit LCD
Warranty
5-year manufacturers warranty