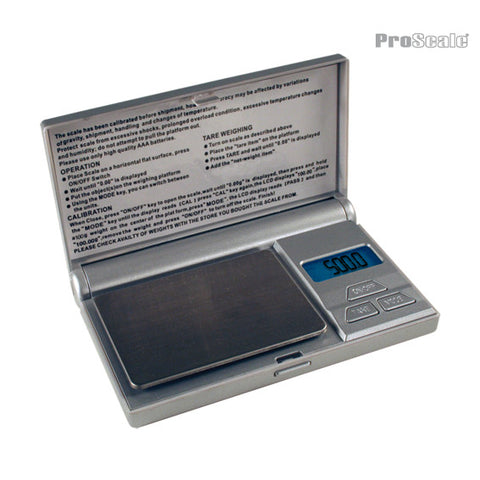 ProScale
LCS 500
- 500g x 0.1g
g, oz, ct, gn
Another Low Cost pocket scale from Proscale.
Get accuracy and portability with the ProScale LCS 500. Its large, easy-to-read back-lit display ensures visibility even in less than optimal lighting. The ProScale LSC features a durable, easy-to-clean stainless steel platform with VibraKill®, a vibration inhibitor that prevents environmental vibrations from skewing your results. The hinged cover protects the scale as you travel with it. Powered by 2 AAA batteries (included). Modes include grams and ounces. Features: Tare function, auto-off, last-unit memory, easy calibration (weight not included) and includes Proscales legendary Five-year manufacturer's warranty.
• Stainless steel weighing tray
• Unique 3 button pyramid shaped keys
• Fully hinged top cover
• Did we mention its low cost?
Calibration
If the scales should ever deliver a false reading, they can be calibrated in the following way if required: The Scales have to be turned on before calibration. Wait for the display to show "0.00". Now press and keep the "MODE" button pressed, until the word "CAL" appears, Press the "MODE" button once more. The display now shows the maximum possible weight that the scales can measure. place the exact equivalent weight on the scales. The display will now show the maximum weight, followed by "PASS". The calibration is now complete.
$19.90
Product Features & Specifications
Capacity
500g x 0.1g
Readability
(0.1g)
Units
Gram, Ounce, carats, grains
Calibration
YES
Power Source
AAA BATTERIES
Weighing Platform Size
2'' x 2.5''
Scale Size
0.5'' x 3'' x 4.5''
Display
Blue Backlit LCD
Warranty
5-year manufacturers warranty