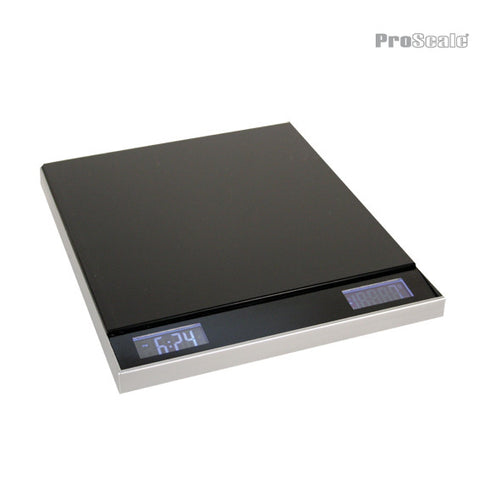 Proscale
LUR
- 5000g x 1g
g, lb: oz
Sleek Modern Kitchen scale with built in clock.
ProScale introduces the Lur: A beautiful, sleek & stylish contemporary kitchen scale! The Lur is meant to make a statement wherever you put it: the clean lines of silver accents wrapped around the scale and black, smooth glass-surface & body make this scale fit perfectly in just about every setting. The reverse-lit LCD Display is easy-to-read & looks attractive. Also balancing out the scale is a reverse-lit built-in LCD Digital Clock - this scale will have everyone wanting to know where you got it!
The fun doesn't stop there: the Lur has an amazing 5,000 g x 1 g capacity (11 lb x 0.1oz), so it's definitely a workhorse in the kitchen & able to handle quite a bit! Includes 4 x AAA Batteries & backed by the ProScale 5-Year Warranty, you are sure to be pleased with this a'LUR'ring scale!
• Smooth Black Finish with Silver accents
• Very low cost and a great value for your customers
• Reverse-lit Display and Clock
• Attractive alluring design
$48.90
Product Features & Specifications
Capacity
5000g x 1g
Readability
(1g)
Units
Gram, Ounce, Pounds
Calibration
YES
Power Source
AAA Batteries
Weighing Platform Size
7'' x 7''
Scale Size
0.75'' x 8.5'' x 7''
Display
Blue Backlit LCD
Warranty
5-year manufacturers warranty