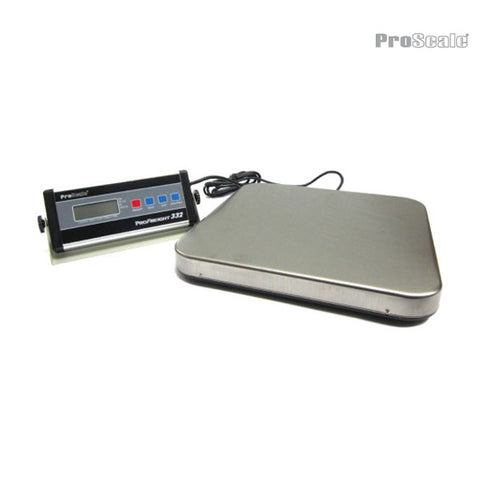 ProScales
PROFREIGHT 332
- 332lb/ 150kg
kg, lb , oz
ProScale's ProFreight shipping scale has mastered the warehouse environment. Made from tough stainless steel, this scale can withstand wear and tear and large payloads. The display features a LCD screen complete with an auto-off function after 2 minutes to save power. Screen detachability allows you to have options in customizing your setup. 
And then there's price. For significantly less than you'd expect, you get 332 pounds of capacity, dual power modes for staging flexibility, and a manufacturer 5-year warranty.
Calibration
You must have an accurate 75kg weight in order to calibrate
1) Make sure the scale is turned off. Press and hold (ZERO) (Do not release) and turn on the scale, release when the display shows the A/D value ( A series of random numbers)
2) Press (UNIT), the display will show the "CAL" and then the correct calibration weight "75.00"
3)Place the correct calibration weight on the platform and wait 5 seconds. The display will show " PASS" and then return to normal weighing mode.
4) Calibration is complete.
$107.00
Product Features & Specifications
Capacity
332lb/ 150kg
Readability
0.2lb/100g
Units
Kilograms, Pounds, Ounces
Calibration
YES
Power Source
AAA batteries
Weighing Platform Size
4.25" x 2.7"
Scale Size
0
Display
Backlit LCD
Warranty
5-Year-Manufacturers Warranty