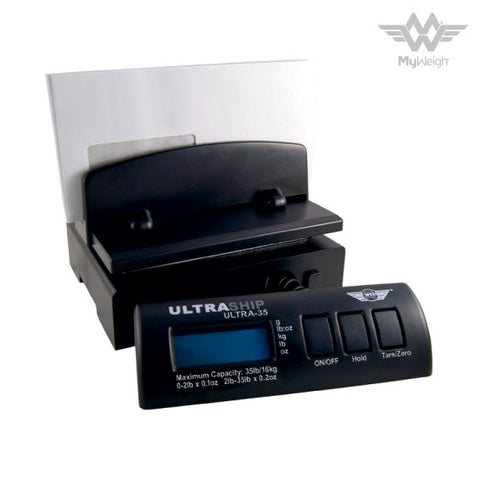 My Weigh
ULTRASHIP 35
- 16kg x 2g - 5g - 35lb x 0.005lb
lb, oz, kg, g ,oz
The Ultimate Shipping and Mail scale is here!
The Ultraship 35 is the culmination of years of development. It is designed to be the ultimate scale for home, office or small business. Whether you're weighing foods, postcards, letters, parcels, envelopes, mailing tubes, padded packs, small boxes, medium boxes or even large boxes, this scale has been designed to suit your needs perfectly.
Its dual range design allows accurate reading of small letters in 0.1oz increments, while larger packages are read in 0.2oz increments. You no longer need one scale for letters and another for boxes. This scale is an asset for any home or office.
• Patented detachable display & keypad 
• Multi-Sized Letter Holder with extendable bracket and a curved Mail Tube Holder included
• Programmable auto-off and backlight features
Patent 7,256,357; Additional US/CA/EU patents granted or pending
Calibration
The to calibrate- calibration is almost never required.
If the scale is inaccurate, calibration may be desired when the scale is first set up for use, or if the scale is moved to a differemt altitude or gravitation. This is necessary because the weight of a mass in one location is not necessarily the same in another location. Also, with time and use, mechanical deviations can occur.
**The Ul-35 requires a 10kg calibration weight to calibrate.**
$53.50
Product Features & Specifications
Capacity
16kg x 2g - 5g - 35lb x 0.005lb
Readability
16kg x 2g / 5g - 35 lb x 0.005lb
Units
Pounds, Ounces, Kilograms, Grams, Ounces
Calibration
YES
Power Source
Rechargeable batteries- Adapter optional
Weighing Platform Size
2'' x 9''
Scale Size
8'' x 6'' x 9''
Display
Blue Backlit LCD
Warranty
30-year manufacturers warranty