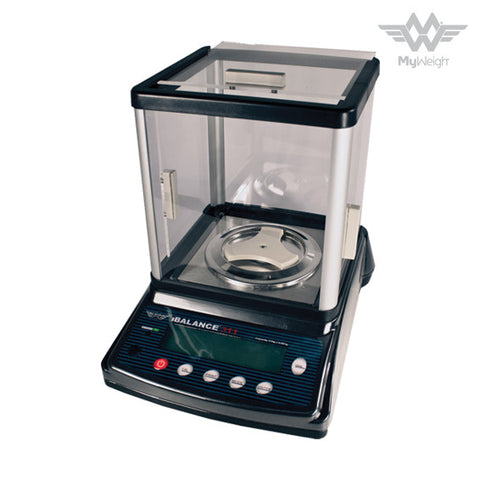 MyWeigh
iBALANCE 311
- 310g x 0.001
g, ct, ozt, dwt, lb, ct
The 311 is the most precise iBalance Precision Scale available.
The iBalance series has always been a trusted scale for many high-precision applications in offices, schools, labs, professionals and much more! The new iBalance i311 is no exception & boasts many new features; one of them notably increasing the readability from onehundreth (0.01g) to onethousanth (0.001g) - this makes the i311 the most precise iBalance scale available & a really amazing buy & one of the best scales for ultra-precision weighing!
Many people have given praise to the iBalance Series for their precision benchmarks & multi-precision uses. The iBalance Series specializes in ultra-precision weighing & durability. The 30-Year MyWeigh Warranty is the icing on the cake.
Still standard with the i311 as with all other iBalance scales are the adjustable Stablization Feet, Accurate Liquid-Level Bubble, Powered a rechargeable battery or with included Adaptor, Stainless-Steel Weighing Platform, Parts-Counting feature, Large LCD Display and much, much more! Precision just got better! 
• Extra large backlit LCD
• Wind cover slides open on three sides
• Levelling System
• Counting Feature
• Last-unit-used memory feature
Indicators your scale may need to be calibrated
-If you scale is not loading properly
-Your scale is stuck at 0
-Inconsistant/inaccurate weights
Calibration
1) First remove all objects from weighing tray. Press and hold the CAL key, calibration will begin.
2)The scale will show the required weight for calibration. Place the required weight as indicated on the screen on the center
3)Once the required weight is placed on the scale it will show lines across the screen ----------, then it will show " PASS". then it will show the required weight once more.
4) Then remove the weight and the screen will show----- then set back to zero. Calibration is complete.
$829.90
Product Features & Specifications
Capacity
310g x 0.001
Readability
one thousanth (0.001g)
Units
Grams, Ounces, Troy Ounces, PennyWeight, Pounds & Carats
Calibration
yes
Power Source
6 AA batteries (not included) AC adapter (included)
Weighing Platform Size
4.7″ diameter
Scale Size
10.5'' x 11'' x 7.5''
Display
Blue, Backlit LCD
Warranty
30-Year MyWeigh Warranty