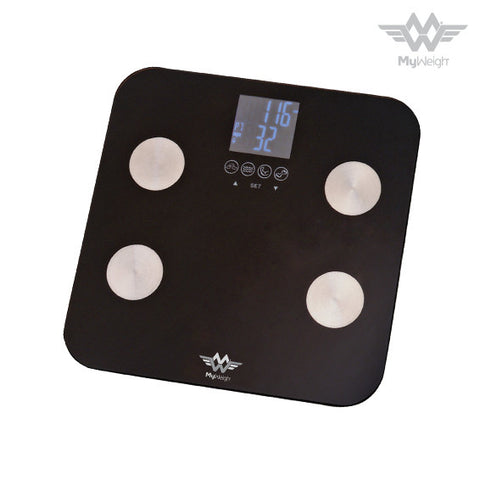 My Weigh
GALILEO2
- 150kg x 0.1kg / 330lb x 0.2lb
lb , kg
One of the slimmest scales ever built. 
This sleekly styled bathroom scale features advanced digital weighing technology that provides a high tech analysis of the fitness level of the user. It measures the percentage of body fat, body water, muscle, bone weight and total weight for up to 8 individual users. The scale has a large capacity of 330 lbs or 150 kg.
The Galileo uses one of the most reliable methods of analyzing body composition, BIA, short for bioelectrical impedance analysis. BIA is based on a persons height, weight and the strength and speed at which a very safe, low-level electrical signal passes through the muscle and fat in the body. The Galileo 2 uses a true BIA process that is accurate, convenient and fast. Electrodes built into the medal Foot Pads sends a safe electronic signal through the body. Weight and body fat are calculated automatically.
• 8-User Memory personal data storage 
• Measures body fat, water, muscles and bone
• LCD full digital display
• With Sense-On Technology
• Extra slim design - 310 x 310 x 18.8mm
$73.90
Product Features & Specifications
Capacity
150kg x 0.1kg / 330lb x 0.2lb
Readability
0.1kg / 0.2lb
Units
Pounds , Kilograms
Calibration
YES
Power Source
CR-2032
Weighing Platform Size
12'' x 12''
Scale Size
12'' x 12'' x 0.5''
Display
Blue Backlit LCD
Warranty
30-year manufacturers warranty