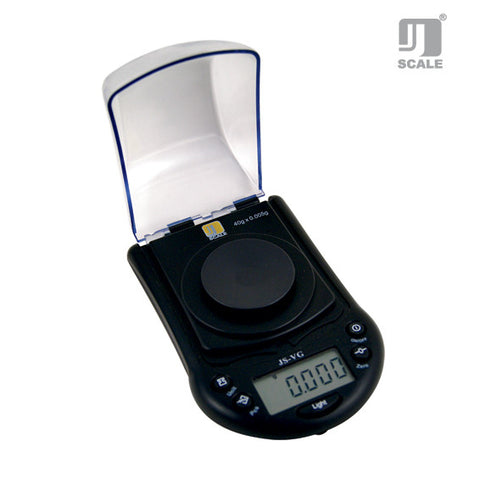 Jennings
JSCALE JSVG
- 20g x 0.002g
g, ct, gn, dwt, oz, ozt, mg, PCS
The Best Low-Cost Precision Scale in the Market.
The J-Scale JSVG is our favourite pocket precision scale. It has lots of features - more then anything else in it's class. It comes complete with a removable clear wind cover, calibration weight, batteries, large backlit LCD display, parts counting function, programmable auto-off and a beautiful black jewelry box as it's case. 
It is designed for extreme accuracy and durability. This scale is perfect for weighing gemstones, precious metals, and gunpowder. It is also ideal for spot checking and QC.
• Hinged removable wind cover
• Accuracy reads to 0.01ct
• Counting Feature
• Comes equipped with a Foam-Encased Jewelry box
• Large LCD Display
20g x 0.002g
MODES:g,ct,gn,dwt,oz,ozt,mg,PCS
Calibration
This unit requires 20g weight to calibrate
1) Place scale on a flat, very stable surface on turn it OFF
2) Press and hold (UNIT) first, then press (ON/OFF), (don't release the unit button until the display shows the random AD value.)
3)Wait 2 seconds, Press ( UNIT). The Display will show " 0SAVE", after 2 seconds , the display will show the calibration weight amount.
4)Place the correct calibration weight on the platform, then press (UNIT), the display will show " 0SAVE" and return to A/D value.
5)Calibration is now complete, Remove the weight and turn the scale off.
$86.80
Product Features & Specifications
Capacity
20g x 0.002g
Readability
Two thousandths (0.002g)
Units
Grams, Carats, Grains, Ounces, Troy Ounces, Pennyweight, and Milligrams
Calibration
yes
Power Source
3 AAA Long Lasting Batteries
Weighing Platform Size
1.5″ diameter
Scale Size
2'' x 5'' x 3.5''
Display
Backlit LCD Display
Warranty
20 Year Warranty