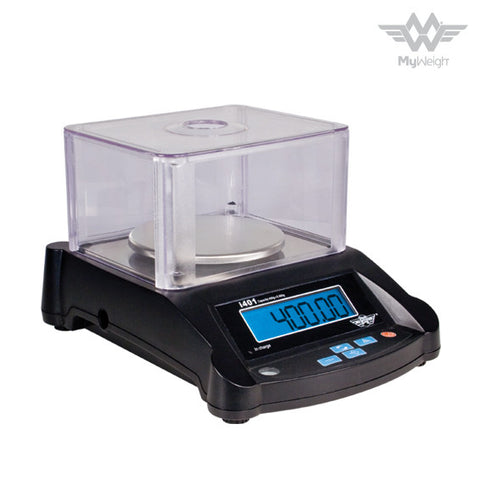 MyWeigh
iBALANCE 401
- 400g x 0.005g
g, oz, mg, ozt, dwt, ct, gn, PCS
Ultra High Precision with new extra-stable base.
People have long loved the MyWeigh iBalance series and have trusted their accuracy and reliability & multi-uses. The all-new i401 scale is nothing short of amazing! This scale has new ergonomics as well; updating the iBalance look a bit with some rounded legs that accentuate the scale's look. One of the first things that will take some time to grasp is the amount of weighing modes the new i401 has: a WHOPPING 13 WEIGHING MODES! Yes, that's not a misprint, this scale weighs in Grams, Carats, Ounces, Troy Ounces, Pounds, Grains, Pennyweight, Drams, Mommes, Taels, Pieces, 1/4 Ounce & 1/8 Ounce! This is the most diverse iBalance scale there is & only increases the multitude of uses with the addition to the added weighing modes!
These scales were built with the professional in mind: you can expect an amazing performing scale here and all the iBalance scales in the series: The two bright-blue LCD dual-displays helps for presentations & classrooms and are easy to read. As with the other iBalance scales, this one has a built-in levelling system (bubble), Stainless-Steel Weighing Platform, Wind-Screen Cover with Lid, Adjustable feet, Rechargeable Batteries & AC Adaptor (can be used with or without AC Adaptor if batteries fully charged) & RS-232 port for computer connectivity.
The accuracy & dependability of the i401 is nothing short of amazing. This professional scale is backed by the My Weigh 30 Year/Lifetime Warranty. 
• Dual Displays (front & rear)
• Reads in 13 Modes
• Built-In Rechargeable Battery
• Underclocked to read to 0.1gn with perfection
400g x 0.005g
MODES:g,ct,oz,ozt,lb,gu,dwt,mm,t,1/802,1/4oz,dt,fl.h,fl.t,tlj,PCS
$387.10
Product Features & Specifications
Capacity
400g x 0.005g
Readability
five thousandths (0.005g)
Units
Grams, Carats, Ounces, Troy Ounces, Pounds, Grains, PennyWeight, Drams, Mommes, Taels, Pieces, 1/4 Ounces, 1/8 Ounces
Calibration
yes
Power Source
Rechargeable Batteries & AC Adaptor (can be used with or without AC Adaptor if batteries fully charged) & RS-232 port for computer connectivity.
Weighing Platform Size
4.5" Diameter
Scale Size
6.5'' x 10.5'' x 7.5''
Display
Professional balance with Back-lit LCD Display Dual-Display (Front & Rear)
Warranty
MyWeigh 30-Year/Lifetime Warranty