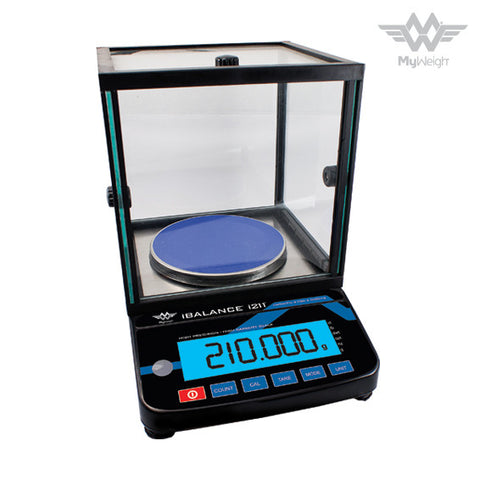 MyWeigh
iBALANCE 211
- 210g x 0.001g
g, ct, oz, ozt dwt, gn
Extreme precision professional scale with German HBM true-division
The iBalance series has always been a trusted scale for many high-precision applications in offices, schools, labs, professionals and much more! The new iBalance i211 is no exception & boasts many new features; one of them notably increasing the readability from one hundreth (0.01g) to one thousanth (0.001g) – this makes the i211 the most precise iBalance scale available & a really amazing buy & one of the best scales for ultra-precision weighing!
Many people have given praise to the iBalance Series for their precision benchmarks & multi-precision uses. The iBalance Series specializes in ultra-precision weighing & durability. The 30-Year MyWeigh Warranty is the icing on the cake.
You might think that weighing doesn't get much better than this, but it does: Upgraded bigger handles for each Windscreen cover opening (helps to make opening the Windscreen Cover easier), 100g Calibration Weight & it's own Protective Case, RS-232 Port for computer compatibility), reads in six weighing modes (Grams, Ounces, Troy Ounces, PennyWeight, Pounds & Carats), and a total of 210,000 Professional Division Sensors.
Still standard with the i211 as with all other iBalance scales are the adjustable Stabilization Feet, Accurate Liquid-Level Bubble, Powered by 6 x AA batteries or with included Adaptor, Stainless-Steel Weighing Platform, Parts-Counting feature, Large LCD Display and much, much more! Precision just got better! 
• Extra large backlit
• Included level bubble
• Custom hard case
• Calibration weight and weighing cup included
210g x 0.001g
MODES:g,ct,ozt,dwt,lb,ct
$808.60
Product Features & Specifications
Capacity
210g x 0.001g
Readability
one thousanth (0.001g)
Units
Grams, Ounces, Troy Ounces, PennyWeight, Pounds & Carats
Calibration
yes
Power Source
4 AAA batteries (not included) AC adapter (included)
Weighing Platform Size
4.5″ diameter
Scale Size
8.5'' x 9.5'' x 6.5''
Display
Blue, Backlit LCD
Warranty
30-Year MyWeigh Warranty